doin' our bit for climate action
We have partnered with Future Neutral because they believes climate change is, and always has been, a massive problem. With the urgency to not only act but also be impactful, Future Neutral aims to reduce the severity of climate change, paving the way for behavioural change among the general population (like you or I) and giving us a way that we can contribute.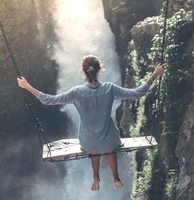 what do they actually do?
Future Neutral uses certified, vetted, carbon offset projects that reduce, avoid or remove greenhouse gas emissions from the atmosphere meaning you can offset your carbon footprint once you've finished shopping (Hell yessss)
So not only do you get your new favourite face mask and the body oil you've been dying to get ever since you finished it but you also get the chance to make a positive impact on the environment. That's a home run if we ever did see one.
Carbon offsets actually refer to the offsetting of greenhouse gas emissions, the most common of which is carbon dioxide so carbon offset is simply used as a term to describe activities that remove (offset) CO2e from the atmosphere. Some of the most common examples include planting trees and switching to renewable energy sources.
what are carbon offsets?
where is my money being used?
Future Neutral has helped install a one-click carbon offset button once you're directed to our checkout screen so you can choose to offset your purchase by adding 3% of the total cart price to your total.
This 3% is then divided and sent directly to certified carbon offset offset projects, with all projects Future Neutral support being certified by the United Nations. These projects are:

The Gangwon Wind Energy Park Project
Designed to reduce reliance on the multiple wind turbine generators which produce over 70MW of power, instead focusing on renewable energy.
A United Nations certified project located in the Gangwon Province of South Korea.

The Greenfleet Forestation project
An Australian not-for-profit environmental organisation specialising in restoring forests, with a particular focus on planting native biodiverse forests to offset carbon emissions. Greenfleet have planted more than 9.4 million native trees across over 500 biodiverse forests in Australia and New Zealand being since 1997.
The San Clemente Hydro project
Run out of the San Clemente Hydroelectric Power Plan where the energy produced by the project displaces fossil fuel generated electricity avoiding GHG emissions estimated at 12,620 tCO2e per year.
This United Nations certified project is located in the Talca Province, Chile.
It might seem like a small amount at checkout but if 10% of Australians donated to Future Neutral they'd be able to fund over $600 Million dollars worth of carbon abatement programs per year!
So trust us when we say a small change can make a big difference because after all, this planet is all we have and we think it deserves some looking after. Big time.
100% cruelty free

SKINFOOD