simple skincare swaps to make for spring
It's time to spring clean your skin routine.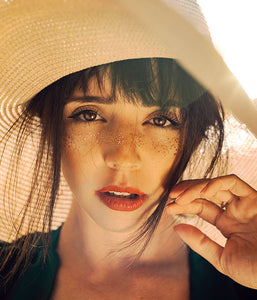 With winter hibernation finally behind us, it's time to enjoy the warmer days and balmy nights. Spring is all about rebirth and new season transition, so there's no better time to tweak your skincare routine to help support your skin in the warmer months. Your spring skincare switch doesn't need to be life-changing to keep your skin healthy, all you need is to swap to a lighter moisturizer or lightweight oils to protect and maintain healthy skin while preparing that gorg-e-licious face sunshine and frolicking in the meadow.
We asked Dermatologist Kathleen Eusebio-Alpapara for tips on transitioning your skin routine for spring.
Why your skin routine should change in spring?
The skin is always exposed to external factors which means it's greatly affected by the environment, including seasonal changes. From the warmest, humid summers to the cold, dry winter, the skin behaves differently each season, which is why tweaking our skincare routine seasonally is important. As the season transitions from winter to spring, the ambient temperature and humidity increase, and more sunshine! Our skin's oil production and hydration increase, and the winter's lightened dark spots will again become darker. Although everyone's skincare is tailored to your needs, a lightweight moisturiser, anti-aging products, and a broadband sunscreen are your spring skincare basics.
Product & ingredients to have in your spring skincare routine
Spring is the time to gradually transition to your summer skincare routine. Choosing the right products and ingredients are key to avoiding dull skin throughout the spring and summer months.
Sunscreen
Use sunscreens with a broad UV absorption spectrum, which can protect you from both UVA and UVB. Look for sunscreens with filters like Zinc oxide.

Lightweight moisturiser
Use moisturisers with non-comedogenic ingredients like argan and jojoba oil, these are oily skin-friendly, while heavier oils like coconut are good for dry skin. A good humectant to look out for is palm-free glycerin which can keep the skin hydrated.

Antioxidants
Something for anti-aging? Look for products with antioxidants like vitamin C, which can help protect your skin from free radical damage which leads to aging. Vitamin C is also proven to lighten unwanted dark spots due to photoaging. Retinol can stimulate collagen production and soften the appearance of fine lines, smoothen rough skin, and lighten age spots.
Dietary Supplements
Beware of those supplements being sold online, especially when marketed as muscle building supplements. Dietary supplements that aggravate acne contain vitamins B6 and B12, iodine, whey protein, and "muscle building supplements" that may potentially be contaminated with anabolic androgenetic steroids.
Anabolic steroids may cause hormonal changes, leading to excess sebum production. It can also alter our skin's natural lipids increasing the density of Cutibacterium acne on the skin.
Spring Face Tips
We all have different skin types, so your spring routine ultimately depends on your skin type.

Gently wash your face.
Avoid rubbing or using harsh cleansers and use lighter cleansers.

Exfoliate
You can use an exfoliating face scrub once to twice a week if you have oily skin or once every two weeks if you have drier skin. But avoid using physical scrubs if you have active pimple breakouts, rosacea, and facial irritation. Don't scrub your face when it is red, itchy, and with active pimple breakouts.

Go Lightweight
Avoid comedogenic products that will lead to clogging pores or unwanted breakouts for those with oily skin. You may use products that can remove excess oil and unclog pores, like salicylic acid. A lighter moisturiser can also be used.

As humidity rises with the temperature, moisture does not evaporate from the skin much. As it's too early to shift to your summer skincare routine continue using that rich cream as a moisturiser and avoid rough patches for smooth skin.

If you have drier skin, continue using your winter moisturiser. Spring is more forgiving for those who have dry skin than winter. Winter can dehydrate the skin, and transitioning to a warmer season can improve it. But that doesn't mean that we become lax about regular skin moisturisation. It is still cold in spring, after all.

Be wary of the products you use, especially if you have sensitive skin. Avoid products that make your face sting, itchy and red. If you are diagnosed with rosacea, you must know what triggers your flares and avoid them. It can be too much sun exposure, alcohol, strenuous activities, harsh skincare products with alcohol, and exfoliants.
Spring Body Tips
Like our face, our body needs a skincare treat too.
1. Avoid sun damage by having stringent sun protection to avoid harmful UV rays causing skin cancer. Aside from broad-spectrum sunscreens, hats and long sleeves help too.
2. Some parts of your body have fewer sebaceous glands than the face, like the arms and legs. Sebum technically lubricates the skin, which can help trap moisture underneath. Areas with low sebum production, like the arms and legs, can become drier, especially when the ambient temperature is low. Be sure to use moisturisers regularly. You may also use oils like jojoba oil to lock in moisture and for an extra hydration boost for your skin.
3. Use a gentle cleanser
4. Oil baths also help. Oils like coconut can help lock in water on your skin.
5. You may also lightly exfoliate once to twice a week with body scrubs which help get rid of the dead skin, or just every two weeks since the skin usually renews itself every 2 to 4 weeks. Do not overdo it!
Morning spring skincare tips
Cleanse.
Try double cleansing with Adios Irritation face + body oil to remove the previous night's skin routine. With apricot kernel, it contains anthocyanins protecting the skin from the harmful effects of UV rays. Rich in antioxidants such as lutein, beta carotene, and zeaxanthin, to help fight against free radicals. It can also soothe the skin due to lavender and chamomile. Follow with Cleanse Dust powdered cleanser, a gentle foaming cleanser. Remember, do not vigorously rub your face.
Use an antioxidant.
Our Hydrate Hero face serum contains Quandong extract, which is high in vitamin C. It not just works as an antioxidant but can also lighten the skin.

Moisturise
When the cold spring weather still dries the skin try our Goodbye Breakouts hemp oil with or without the serum, to further hydrate spring skin.

Don't forget your lips.
Our Nudist Balm is excellent for dry chapped lips.
Night spring skincare tips.
Cleanse with the double cleansing kit. It also works as a good makeup remover.
Eye product: Try the eye illuminate. It has coffee, believed to lighten dark circles and soothe puffiness of the eyes.
Tone: Try our toner, the fresh face toner, if you have oily skin or some acne blemish you want to address. It has witch hazel, a natural astringent that can dry up inflamed pimples.
Treat: Use our Lighten Up brightening serum if you have unwanted pigmentation or dark skin spots.
If you have drier skin and cannot tolerate the toner and the serum is not enough, try our other oils like the Mister Brightside face + hair oil.