skincare benefits of vitamin c & kakadu plum from a dermatologist

Kakadu Plum: Natural, skin brightening, antioxidants and vitamin C, all rolled into one cutesy little plum.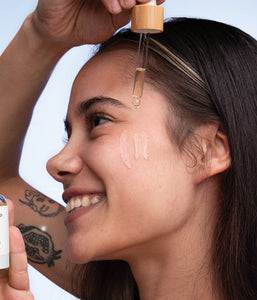 We asked Dermatologist Kathleen May Eusebio-Alpapara what the fuss is about Vitamin C, does it live up to the hype, and what the skincare benefits of Kakadu plum with vitamin c are. Spoiler alert the hype is real.


What is vitamin C, and why is it important in skincare?
Vitamin C is a powerful, naturally available antioxidant that some animals and plants can produce. However, our bodies can't produce Vitamin C, so we must get it from natural resources. Vitamin C in skincare products in effective to your skincare routine is for many reasons.
Dr Eusebio-Alpapara states, 'Vitamin C has a wide range of functions to keep your skin healthy. It is safe for prolonged use and when combined with other skincare must-haves like sunscreen. However, its major strength is its ability to prevent photoaging and skin cancers makes it worth your time, money, and effort. If you want healthy skin, being proactive is always better than remedying the damage already there. Prevention is always better than cure.'

It's a potent antioxidant. 
So, how does using an antioxidant benefit our skin? External factors such as prolonged sun exposure, smoking, and pollution can damage our skin through "oxidative stress," which can lead to collagen degradation, UV-induced immune system suppression, and even mutations that can cause skin cancers. Using potent antioxidants, like vitamin C, helps neutralise this process, protecting our skin from photoaging, UV-induced immunosuppression, and skin cancers.

It has anti-aging effects. 
Vitamin C doesn't only prevent collagen degradation; it can also regulate collagen synthesis. It can help lighten unwanted pigmentation by suppressing skin pigment or melanin production. 
So what's the deal with Kakadu Plum and vitamin C?
Our Aussie icon boosts vitamin c and skin-brightening antioxidants so good; your friends will need sunnies just to look at ya. Kakadu Plum is an Australian native fruit that grows wild across the Kimberly's and Arnhem Land in the Northern Territory. Aboriginal people have historically used Kakadu plum for its healing properties.
Fun Fact: Kakadu has the highest recorded source of Vitamin C in the world! Yep, Kakadu Plum records a concentration of up to 5300mg/100g compared with 50mg/100g for oranges.
Rich in bio-actives, it's no wonder Kakadu Plum has become the holy grail of skincare. With its ability to store ridiculous amounts of Phyto-compounds, the Kakadu plum skin benefits have fast made Kakadu the must-have in skincare, proving to do wonders for your skin. 
What makes Kakadu Plum in skincare so unique?
As described by BNB's head chemist Merima, 
'Kakadu Plum is extremely rich in vitamin C, and although natural vitamin C is known for being notoriously unstable, Kakadu contains Flavone Glycoside, which helps deliver a natural, stable, and bio-available Vitamin C. Combined with gallic acid, ellagic acid, Kakadu plum is all about skin brightening, evening, plumping and replenishing the skin.  
Studies show that Vitamin C can neutralise free radicals and increase collagen production, thus reducing fine lines, lighten and even skin tone, reduce sun damage and hyperpigmentation spots and acne spots and scars.
What's compounds are in Kakadu Plum?
Pure active vitamin C
Brightens evens skin tone and fades hyper-pigmentation

Promotes collagen production

Reduces redness and inflammation whilst hydrating skin
Gallic acid (antioxidant)
Protects against free radical damage

Helps prevent and fight UV-induced damage.

Proven to reduces wrinkles and improves skin texture

Antiseptic properties to help clear pimple-causing bacteria.
Flavone Glycoside 
Neocollagenesis - stimulating collagen production, reducing fine lines

Anti-inflammatory properties

Strengthens skin's barrier response, reducing dark circles and puffiness.
Ellagic Acid
Improves the appearance of sun-damaged skin, interrupting photo-ageing, reducing wrinkles and flare-ups from sun damage.

Skin brightening properties - clinically proven to be anti-melanogenic.


Benefits of Kakadu Plum on your skin
Reduces the signs of ageing
Kakadu Plum skincare helps plumps up the skin by stimulating collagen growth and reducing fine lines improving skin elasticity for a super youthful glow. (Yes, please!)
Protection against toxins
Provides antioxidants from natural nutrient gallic acid, a phenolic acid that works against free radical damage caused by environmental toxins, pollution and the sun. When free radicals come to nest on your skin, it causes dehydration and accelerates ageing signs. So it's important to build your skins protective layer - trust us, your complexion with thank you for it.
Reduces sun damage
Sunburn sucks, but it happens, so let Kakadu Plum be your saving grace. 
It's grown up in the sunny Aussie outback, so it has a natural resistance to the harsh effects of the sun. In addition, ellagic acid helps prevent melanogenesis and even out skin tone.
Heals skin with antibacterial and anti-inflammatory properties
The Vitamin C content in Kakadu plum can help reduce redness, while Gallic acid and ellagic acid boost antibacterial properties that calm irritation and strengthen the skin's outer barrier. Your MVP to help treat acne or inflammatory skin disorders.
Skinology - The science of Kakadu plum 
For your skin to truly reap the rewards of the natural nutrients in Kakadu Plum, the extract should be pure and fully active. So if you see 'naturally-derived, this could mean they may dilute active ingredients with synthetics.
How to add Kakadu Plum into your skincare routine to maximise benefits?
To maximise the vitamin C benefits of Kakadu plum, it's best to use a product with Kakadu Plum Extract (in comparison to Kakadu Seed oil) as the extract form contains active vitamin C.
Continuous and regular application every 8 hours is essential for adequate photo-protection. UV light exposure diminishes tissue levels of vitamin C, so you should apply it after sun exposure. 
Some other advice from Dr Eusebio-Alpapara to maintain healthy vitamin c levels include;
Do not smoke. Smoking decreases blood levels of vitamin C significantly. Therefore, oral supplements from 35 to 200 mg of additional vitamin C per day is recommended for smokers.
Visit your trusted dermatologists. There are in-clinic procedures like laser resurfacing, ultrasound, iontophoresis, etc., that can enhance penetration of vitamin c.  
What to look for in vitamin c in skincare?
Dr Eusebio-Alpapara explains, there are many different products available with vitamin C derivatives, but not all are equal.
The efficacy of vitamin C serum is proportional to the concentration but only up to 20%. 
So using Vitamin c products with higher concentrations may have more or less the same benefits as those with just 20%, but with more side effects, like irritation. Reputable products contain vitamin concentrations from 10 to 20 %. 
L- ascorbic acid is the most well-studied and biologically active or the only form of vitamin C the body can use. However, it is hydrophilic and unstable. We have to note that the skin barrier is hydrophobic, which causes the poor penetration of L-ascorbic acid. Some manufacturers reduce the acidity of L-ascorbic acid to a pH below 3.5, making it more stable and quickly penetrate the skin.
Combining other ingredients such as tyrosine and zinc increases its bioavailability by 20 times more than using it alone. Zinc enhances collagen remodelling. Tyrosine, an amino acid, promotes cell renewal and protein synthesis and aids L-ascorbate transport into the skin.
Other common forms of vitamin C are ascorbyl-6-palmitate and magnesium ascorbyl phosphate (MAP), which are both stable at neutral pH. Additional derivatives of vitamin C available are disodium isostearyl 2-0 L-ascorbyl phosphate, ascorbic acid sulphate, and tetraisopalmitoyl ascorbic acid. But we have to keep in mind that these have to be converted to L-ascorbate to be useful.
Meet Our Experts
Kathleen May Eusebio-Alpapara is a board certified dermatologist who practices both medical and cosmetic dermatology at VE Eusebio Skin Center.