Tips on how to double cleanse for your skin type
Dr Kathleen Eusebio-Alpapara guides us through the best way to double cleanse for your skin type.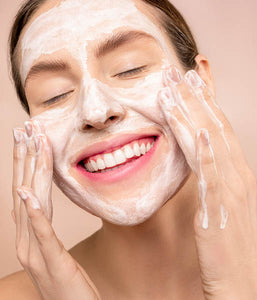 You might have heard people following a double cleansing skincare routine, but you're not sure how to do it or what the benefits are. 
Well, if you're up for it, it is a quick two-step process.
We're not just discussing a simple wipe down with a facial wipe. Each day, airborne germs and pollutants are drawn to your face, and if you don't wash them off thoroughly, they can lead to irritation and breakouts.
 
What is double cleansing?
Double cleansing helps remove stubborn makeup, dirt, dead skin, and oil-build-up that sits on the top layer of your skin. If your skin gets exposed to pollution and heat daily, it is essential to remove that thick layer of sunscreen and other pollutants from your skin by the end of the day.
The first step will remove the oil-based impurities like makeup, sunscreen, sebum, and dirt. Once your face is adequately cleaned, the second step will clean deep within the pores and remove the remaining dirt and oil. Cleansers used in the second step contain ingredients meant to address your skin's specific condition. These cleansers can hydrate and smoothen (i.e., glycerin), exfoliate (i.e., alpha-hydroxy acids), and dry up pimples (salicylic acid).
While double cleansing your skin, use different kinds of cleansers. 
First, an oil-based cleanser to help eliminate oil-based pollutants, such as makeup, sunblock, grease, and dust.
For the second cleanser, use a product that is appropriate for your skin needs. For example, you may use a water-based cleanser that can easily slide clogged pores, eliminating unwanted substances, dirt, and sweat- making your skin ready to absorb your toner, moisturiser, and serums easily. 
Benefits of double cleansing
Besides removing impurities and makeup, a double cleanse can rejuvenate dull skin and enable other skincare items to absorb more quickly, in addition to providing a deeper cleanse.
Moisturisers and toners also work wonders after double cleaning since the ingredients can reach deeper and more effectively.
Double cleansing may also reduce fine lines and wrinkles, making the skin soft, supple, healthy, and radiant.
When to double cleanse?
It is best to double cleanse your face in the evening or at night.
Since oil is generated during your sleep and you also do a nightly skincare routine, you can also use this approach in the mornings.
Choose a timing that works for you and attempt to keep to it daily to achieve maximum benefits.
Who should double cleanse?
Double cleansing may not be suitable for everyone. It is most helpful for makeup lovers who wear makeup regularly. But even if you only wear sunscreen on top of a moisturiser, double cleansing is essential. This is because sunblock and other sticky elements that quickly accumulate on the skin are removed using oil-based cleansers.
However, you can't expect a single cleanser to remove all the unwanted oil and dirt in one wash. Therefore, for the second step, we use a water-based or powder-based cleanser. That way, the next cleanser won't have to struggle through an additional level of pollutants after they are removed.
How to double cleanse?
First Cleanse:
Using a cleansing oil, you can wipe makeup, reduce buildup, and draw out contaminants. Massage your dry face for about a minute with a small quantity of the suitable oil cleanser. This procedure is necessary for a thorough cleansing, increased blood flow, and relaxation of facial muscles. Soak a washcloth in lukewarm water and apply it to your face. Heat will help in opening up the pores and cleanse. Gently wipe down the dirt and makeup using circular strokes upward with the washcloth.


Second Cleanse:
Your second cleanse is where your gel, clay or foamy cleanser comes in.
Take your powder-based cleanser, add a few drops of water and start lathering it on your face. Then, massage in upward, circular motions focusing on your problem areas such as around your nose, cheeks, chin, and jawline. Next, rinse the face well with lukewarm water and wipe thoroughly with a soft cloth.
Double Cleansing According To Your Skin Type
The procedure of double-cleansing might vary based on your skin's demands. Below are the type of cleansers you should use for different skin types.
For Oily Skin
Cleanse #1
A face oil would help in removing pollutants and grease from your face. Otherwise, dip a cotton ball in an oil-based makeup remover and gently pat and glide on your face.
Cleanse #2
Wash your skin using a gel or clay cleanser containing aloe, rose, green tea, moringa seed, and glycolic acid. These will help in removing excess oil, hydration balance, irritation, and acne prevention.
For Dry Skin
Cleanse #1
To get the maximum impact, use moisturising ingredients and cleaning balms or oils enriched with shea butter and sunflower, coconut, or jojoba oils to repair damaged skin increase moisture.
Cleanse #2
Since dry skin is more likely to create early symptoms of ageing, creams containing anti-aging compounds like vitamin C, green tea, hyaluronic acid, and glycerin are beneficial. You'll also benefit from moisturising ingredients like glycerin, coconut oil, argan oil, jojoba oil, and argan. Use your bedtime moisturiser or face oil to mildly damp face after rinsing to help lock in hydration.
For Normal or Combination Skin
Cleanse #1
Since combination skin may be difficult to treat, some parts of your face might feel oily, while others feel dry. Vitamin-rich, oil-based cleansers containing moisturising ingredients but low comedogenic ratings like hemp seed oil, grapeseed oil, and rosehip seed oil are your top picks for lifting and moisturising your skin. The same applies if you have regular skin.
Cleanse #2
Rinse thoroughly with foaming cleansers containing almonds and squalene oils, as well as hyaluronic and glycolic acids. The ingredients will maintain the pH level and promote plum and hydrating skin.
For Sensitive or Acne-Prone Skin
Cleanse #1
Search for antioxidants and anti-inflammatory components like vitamin E, aloe, green tea, glycolic acid, and tea tree oil to prevent breakouts and reduce irritation.
Cleanse #2
Choose an exfoliating cleanser that includes glycolic and salicylic acid, which can brighten skin, remove imperfections, and deeply clean pores.
Do's & Don'ts of Double Cleansing
Do's
Use a face oil or oil-based solution as your first cleanser. 
These formulas can eliminate sweat-proof, long-lasting makeup and get into the pores, where grease and substances tend to accumulate. They also assist in controlling oil production during cleansing. 
1. Apply your oil cleanser on a dry face and then add water
The oil attracts grease, and when you apply water, it immediately turns milky before thoroughly washing the face.
2. Use a foam or gel-based cleanser as your second cleanser.
It removes makeup, dirt, and pollutants for a complete clean at the end of the day.
Don'ts
1. Use a foam, water, or exfoliating cleanser for double cleanup.
The skin will be stripped or over-exfoliated as a result of this. So instead, use two separate formulations, the first one oil-based, to make sure that your face is thoroughly cleaned while remaining hydrated.
2. Dry your skin with a rough and dirty towel
You should avoid using a rough or dirty towel as it may contain several germs, and your skin might crack while rubbing it on your face.
3. Use really hot water.
Always wash your face with lukewarm water, as too hot water may dry and irritate the skin. 
Dr. Kathleen May Eusebio-Alpapara is a board certified dermatologist who practices both medical and cosmetic dermatology at VE Eusebio Skin Center.