say goodbye to puffy dark under eyes with coffee oil
Dealing with dark circles can be a big deal. While some skin tightening creams or oils can work, coffee oil works like magic. Yep! We can relate to how much energy that coffee drinks can give, but how much do you know about coffee oil skin benefits?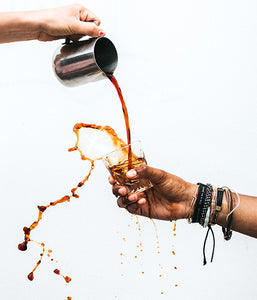 Dermatologist, Dr. Kathleen May Eusebio-Alpapara, says that 'Any good under-eye oil contains caffeine…it's heaven-sent to help lighten and reduce under-eye puffiness… by constricting blood vessels underneath the skin.'

This is because coffee is rich in antioxidants and anti inflammatory properties helping not only to lighten dark circles but also reduces puffiness and under eye bags. And thats thanks to caffeine which helps improve blood circulation and can further help reduce the appearance of those dreaded dark circles.
The best part of this is that you get to use a more natural regimen without having to worry about any side effects. So, apart from leaving you energised, the oil from coffee also revitalises the skin and is especially good for the eyes.
Keep reading to learn more about the benefits of coffee oil for the skin and why you should include it in your skincare routine without thinking twice.


What is Coffee Oil?
Coffee bean oil is a refined oil that is widely accessible on the market. By cold pressing the roasted bean seeds of the Coffea Arabia plant, you get coffee bean oil.
Ever wondered why roasted coffee beans have a nutty and caramel flavour? Well, the heat from the roaster turns the complex sugars in coffee beans into simpler sugars. This way, it is easier to taste it.
Coffee plants are native to South America, Asia, and Africa's tropical climates. This plant is a tiny shrub that grows to a height of about 3-4 metres.
Using coffee oil as part of your skincare routine isn't a new thing. The benefits of coffee oil for the skin began a long time ago. This oil has been used for years as a beauty therapy by women in Brazil. And because of the coffee seed oil benefits, it's fast becoming more popular in the beauty world. Aussies are getting some of its goodness too.


Slather on Some Coffee Oil
Coffee seed oil is not only a natural ingredient but also chock-full of skin-friendly nutrients, including antioxidants like Vitamin E.
Coffee's high levels of Vitamin E and other vital elements aid to soothe and moisturise your skin. And when we say skin, we're also referring to those puffy eyes bags. One of the many coffee seed oil skin benefits is its ability to tighten the skin around the eyes.
So with the right coffee-based skincare product, you can binge-watch your fave series without the fear of getting puffy eyes! Yes please.
It could be a scrub or an eye oil, all it takes is a gentle massage after you apply it and you are good to go.


Benefits of Coffee Oil For Skin
Coffee oil doesn't just work to de-puff your eye bags and clear your dark circles, it's packed with a multitude of skin-feeding nutrients… These include;
reducing the appearance of cellulite. High levels of Vitamin E and other important nutrients in the coffee oil can assist in soothing the skin and reducing the appearance of cellulite.

Using a nice coffee bean oil or adding this to your daily moisturiser can help reduce cellulite. Nonetheless, you should make sure to combine this with muscle growth and a better diet.
helps reduce fine lines and wrinkles. Coffee bean oil is high in caffeine and vital fatty acids. And one of the key benefits of coffee seed oil for the skin is that it aids in the formation of natural collagen and elastin.

This results in younger-looking, smoother skin. This is also used to tighten the skin around the eyes. Few drops of our

eye illuminate oil

containing coffee bean oil and Kakadu plum would help do the trick.
Moisturising. Green coffee oil is a cosmetic oil extracted by cold pressing unroasted coffee beans. The use of green coffee oil can thoroughly hydrate the skin whilst having deep moisturising effects. It also has a herbal scent and is high in vital fatty acids.

This oil can be used with a coffee scrub to treat dry and cracked skin, lips, and damaged and brittle hair. That's one coffee scrub benefit.
Great for acne treatment. Coffee is rich in antioxidants that help detoxify the skin. When you detoxify, dead cells and toxins are removed from the surface of the skin.

By doing this, you allow your skin to breathe more and reduce the toxins on your skin that build up to form acne.


How To Use Coffee Oil
Now that you know about some of the coffee oil skin benefits, you need to know how best to apply it. But the first thing you should know is that you need to be consistent with your skincare routine to see results.
So for the best results, you should apply the coffee oil at night and in the morning. This should be done right after you use your moisturiser. And if you're using an eye oil like the eye illuminate oil, the same rule applies.
Apply the eye illuminate oil under and around the eyes in the morning and at night after creams and serums. You can combine with a toner for smooth, quick absorption.
For dry skin, apply on damp clothing and massage gently. Coffee oil is also great for exfoliating your skin, so you can combine it with a coffee scrub.
You should use this right before you have your bath. And for dark spots and stretch marks, you can opt for a coffee scrub containing Epsom salt. You would love it!


Other Coffee Skin Care Products You Might Like
Since we're talking about the coffee seed oil skin benefits, we thought we should let you in on coffee scrubs and the coffee scrub benefits.
A coffee scrub is simply a skin scrub made from ground coffee. If coffee bean oil can be so good, how much more a coffee scrub.
Even though the benefits of a coffee scrub and that of a coffee oil are similar, some stand out.
Can reduce inflammation. Coffee has anti-inflammatory properties which are great for skin suffering from acne. And these properties together with polyphenols and hydrocinnamic acid, work together to soothe red, inflamed breakouts.
Removes dead skin cells. Gently apply and massage the skin to exfoliate and unclog pores. This is good for a face cleansing routine.
So to sum up, coffee seed oil is your skins BFF because its jammed packed with nourishing properties including antioxidants, phytosterols, vitamin E and other essential nutrients found in your daily cup of joe. On top of that it's a known anti-inflammatory containing enzymes that stimulate detoxification, making it ideal to treat inflamed acne or problematic skin. Pass me another cup!