a guide to the best skincare for 30+ women
 all the tips and tricks you'll ever need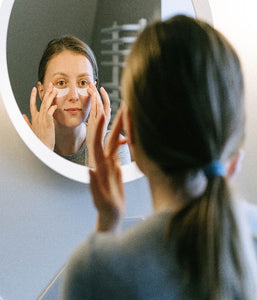 The anxiety brought about by ageing skin is real. In this age of cosmeceuticals, cosmetic products and aesthetic surgeries, people spend a fortune in searching for the best anti-ageing skincare.
Being in your 30's, early signs of ageing skin can become evident and having a good skin care routine is one of the various ways to achieve youthful and glowing  skin that not only ages gracefully but also has you lookin' hella good like, all the time.
But when it comes to anti-ageing skin care, can we really master the tricks of the trade? One of our fave dermatologists, Dr Kathleen May Alpapara, gives us some of the best anti-ageing skin care tips for women in their early to late thirties.
why your skin type is important: the phenotypic approach

Before starting and committing to a skincare routine, consulting a dermatologist is the first step. Why you may ask? The answer is simple. 
Dermatologist-recommended skincare products are tailor-based on specific individual skin type. According to Dr. Leslie Baumann, a proper skin care regimen should be based on the state of one's skin or the phenotypic approach. 
There are 4 parameters to consider in this approach and they are:

Skin hydration

Inflammation

Pigmentation

Skin ageing
Let's take a deeper look at these.
skin hydration
In your 30s, your skin can be dry, oily or a combination of both.


dry skin 
Dry skin is dull and rough with a feeling of tightness or itching. It is caused by the impaired lipid bi-layer in the uppermost part of the skin, making it unable to retain water, decreasing skin hydration.
That's why products that moisturise and hydrate the skin are recommended.  When it comes to cleansers, non-foaming oils, creams or plant based milk cleansers are best for people with dry skin.1,2
oily skin 
Oily skin, on the other hand, already has excess sebum (oil) on the surface of the skin that serves as an occlusive. For people with this skin type, excess oiliness is seen on the face chest and back since these areas have increased sebum secretion by the sebaceous glands or the oil producing glands.
People with oily skin usually shy away from heavy creams and oils but rather prefer lightweight moisturisers like lotions, serums or simply just their sunscreens instead of an actual moisturiser.1
 Foaming cleansers that remove excess oil are the go-to for people with oily skin.  

combination skin 
A combination skin type is when the T-zone (forehead, nose and chin) is oily, and the sides of the face are dry. Light creams can be used on the oily areas (the T-zone) and heavy moisturisers on the areas that are dry.1
Natural ingredients can help to moisturise and hydrate skin that is dry, oily or a  combination of both.
Our prickly pear hydrating face oil contains Kukui seed, sweet almond and coconut that leaves the skin silky without that greasy feeling.
If you're looking to moisturise your body, our rose body oil is your BFF. It's lightweight and contains grapeseed which is a natural occlusive that can trap moisture, paired with Jojoba which can provide lasting skin hydration.  
To ditch excess oil on your face, try the hemp face oil, infused with rosemary which which can help to reduce oil production. 
To cleanse and hydrate the skin, look no further than our lavender cleansing face and body oil leaving skin smooth and supple. 
inflammation: is your skin sensitive or resistant
Someone with sensitive skin may experience any of the following:
acne,
rosacea,
allergies or,
irritation
Consulting with your trusted dermatologists is important as they can recommend the best skincare routine for you. Resistant skin rarely experiences any signs of sensitivity mentioned above.
Natural anti-inflammatory ingredients exist like caffein, chamomile, aloe vera, green tea and tea tree oil. As mentioned above, our hemp face oil is infused with rosemary oil and tea tree oil which have anti-microbial and anti-inflammatory properties, making it good for acne-prone skin. 
pigmentation: is your skin pigmented or non-pigmented? 
Having uneven skin tone with areas darkening in a form of melasma and sunspots or age spots are signs of photoaging. Photoaging results from cumulative UV (sun and tanning beds) exposure and the normal ageing process.1,3
When dealing with unwanted pigmentations these steps should be taken:
 Wear a broad spectrum sunscreen and avoid sun exposure.

Use a whitening agent that inhibits the enzyme (tyrosinase)  which leads to the production of  skin pigment (melanin).

Use another pigment reducing agent that prevents the transfer of the pigment from the melanocytes (pigment-producing cells) to the surface of the skin.

Use exfoliants to help the shedding or removal of the top-most layer of the skin that are pigment laden.
Known whitening agents can also be found from natural sources too. Hydroquinone and arbutin are tyrosinase inhibitors and can be found in coffee and pears.4
Lemon extract is not just a lightening ingredient but can also  augment the effect of other whitening agents. Soy and niacinamide, a vit B3 derivative, found in vegetables and coffee beans prevent transfer of the formed melanin from the melanocytes to the surface of the skin. 
Our prickly pear hydrating face oil and the cuban coffee lip balm utilises some of the natural ingredients just mentioned.
Exfoliation can be done through procedures such as microdermabrasion or just simply using scrubs. Our coconut and lemon sugar body scrub is made of natural ingredients that not only lighten your skin but also moisturise it as well.  Remember, always exfoliate your skin GENTLY.1
skin-ageing: is your skin wrinkled or tight?
Aside from the appearance of melasma and sunspots, here are some of the things that can happen to your skin with age:
Loss of that pink glow (or the normal skin translucency)

Presence of telangiectasis (small vessels)

Appearance of purple-coloured spots (Purpura)

 

Skin roughness and fine wrinkles develop

 
All of these are signs of ageing from long term sun exposure. The skin can also become thinner from the breakdown of the skin's structural components like collagen, elastin, herapan sulfate and hyaluronic acid.1
A study done in Queensland showed that moderate to severe signs of photoaging occurs as skin texture changes. This was found in 47% of women and 72% in men before the age of 30 who were engaged in activities with continuous and prolonged sun exposure. These changes get worse after the age of 30.5,6 
Yikes.  
An anti-ageing skincare routine focuses on preventing and improving wrinkle appearance. There are only 2 topical anti-ageing products that are proven to prevent  wrinkle formation- sunscreens and retinoids.  
Retinoids or metabolites of vitamin A like retinol and retinaldehyde are good anti-ageing products. They reduce collagen degradation and promote collagen production.9 A natural alternative is rosehip oil containing an all-trans retinoic acid, which is also a retinoid.
Products like our cactus clay mask and the rose pink clay face mask contain Rosehip so, like stock up on those. 
Ascorbic acid (vitamin c) has also been shown to possibly prevent skin ageing due to its ability to stimulate collagen and antioxidant property. The Grapefruit oil is a good source of natural vitamin C and is the active ingredient in the rose body oil. Green tea, another promising anti-ageing agent for its anti-inflammatory and anti-oxidant properties, is present in the hemp face mask.1
components of a basic skincare regimen
The order you use your skincare products in when undertaking your skincare regimen is important so that your skin can get the best benefits from them individually. 
(Note that this may not always be applicable to everyone.)
Your typical morning routine should look something like this1:
Cleanser
Eye product
Treatment product (serums or oils) 
Moisturiser
Sunscreen
 Your typical evening routine should look something like this1:
Cleanser
Eye product
Treatment products Treatment product (serums or oils)
Moisturiser
Anti-aging product


Daily skincare should start with a cleanser to get rid of dirt and debris. Follow this up with an eye cream for the ageing skin around the eyes like puffiness, darkening and fine lines and wrinkles.
Applying the eye cream first protects thin skin from medications or treatments. A moisturiser suitable to your skin type should follow. After the moisturiser, an anti-aging product is the last one to be used at night.

Last but not the least is the sunscreen. Remember this - every anti-ageing regimen should include a broad spectrum sunscreen.
Sunscreens, at least an SPF of 30, should be applied 15 to 30 mins before sun exposure and must be reapplied every 2 hours or right after swimming or sweaty exercise sessions.10,11
lifestyle and the ageing skin 
Intrinsic ageing is the natural and inevitable ageing process. It is dependent on one's genes and race. Meanwhile, extrinsic ageing is a product of one's lifestyle  choices like chronic UV (from the sun and tanning beds) exposure, pollution, smoking, diet, repetitive facial muscle movement such as frowning and squinting which makes one more prone to wrinkle formation on the face.
The wrinkles that form from facial movements eventually become deep lines present even with just a poker face.2,3
Aside from UV exposure, there are other factors that affect extrinsic ageing. Along with a good skin care regimen and avoidance of prolonged UV exposure, the following should be avoided or taken in moderation if you want to have a youthful skin:
sugar

A high sugar level is associated with the ageing process through formation of advanced glycation end products (AGEs) which are associated with increased stiffness and decreased skin elasticity. Skin elasticity is also its ability to snap back when stretched. When the skin has less elasticity and stiff, it becomes saggy, wrinkled and leathery. 
smoking
Smoking accelerates ageing by reducing collagen production by the cells called  fibroblasts and inducing collagen breakdown by the enzymes called the matrix metalloproteinases (MPP's).  It has a negative impact on wound  healing and skin nourishment by damaging or blocking the vessels on the skin causing insufficient blood circulation. These make the skin sallow and wrinkled.3
stress
Even though the direct link between psychological stress and ageing is still missing, some studies conclude that prolonged psychological stress activates various physiological pathways in the body that cause oxidative stress, immune suppression and DNA damage.3,6
Increased cortisol (stress hormone) can also cause suppression of the enzyme that produces hyaluronic acid, decreasing its production.3 Hyaluronic acid, as most of us know, is involved in maintaining the skin moisture or its capacity to retain water, making the skin plump and supple.7
sleep deprivation
Chronic sleep deprivation can worsen the signs of ageing by reducing skin elasticity making  fine lines and uneven pigmentation more visible.3 It maybe work related or due to medical conditions which may need expert consultation. 
To sum it up (we know it was a lot of info to take in), having the best skincare routine that suits you and a healthy lifestyle might do the trick of delaying your skin ageing.
Why start in your 30's when you can start earlier and look like in your 30's forever!  Start investing in your skin early and it will reward you, we promise. 
Author: Kathleen May Eusebio-Alpapara MD FPDS FPADSFI
article sources
The facts:

1.  Baumann, L.  Cosmeceuticals and Skin Care in Dermatology from Kang, S., MD, MPH, Amagai, M., MD, PhD, Bruckner, A. L., MD, MSCS, Enk, A. H., MD, Margolis, D. J., PhD, McMichael, A. J., MD, & Orringer, J. S., MD. (2019). Fitzpatrick's Dermatology (9th ed.). McGraw-Hill Education. 
2. Rodan K, Fields K, Majewski G, Falla T. Skincare Bootcamp: The Evolving Role of Skincare. Plast Reconstr Surg Glob Open. 2016;4(12 Suppl Anatomy and Safety in Cosmetic
Medicine: Cosmetic Bootcamp):e1152. Published 2016 Dec 14. doi:10.1097/GOX.0000000000001152
3. Clatici VG, Racoceanu D, Dalle C, Voicu C, Tomas-Aragones L, Marron SE, Wollina U, Fica S. Perceived Age and Life Style. The Specific Contributions of Seven Factors Involved in Health and Beauty. Maedica (Bucur). 2017 Sep;12(3):191-201. PMID: 29218067; PMCID: PMC5706759.
4. Qian W, Liu W, Zhu D, et al. Natural skin-whitening compounds for the treatment of melanogenesis (Review). Exp Ther Med. 2020;20(1):173-185. doi:10.3892/etm.2020.8687
5. Green AC. Premature ageing of the skin in a Queensland population. Med J Aust. 1991 Oct 7;155(7):473-4, 477-8. doi: 10.5694/j.1326-5377.1991.tb93845.x. PMID: 1921818.

6. Green AC, Hughes MC, McBride P, Fourtanier A. Factors associated with premature skin aging (photoaging) before the age of 55: a population-based study. Dermatology. 2011 Feb;222(1):74-80. doi: 10.1159/000322623. Epub 2010 Dec 29. PMID: 21196710.
7.Lee CM, Watson REB, Kleyn CE. The impact of perceived stress on skin ageing. J Eur Acad Dermatol Venereol. 2020 Jan;34(1):54-58. doi: 10.1111/jdv.15865. Epub 2019 Sep 16. PMID: 31407395.
8.Lavretsky H, Newhouse PA. Stress, inflammation, and aging. Am J Geriatr Psychiatry. 2012;20(9):729-733. doi:10.1097/JGP.0b013e31826573cf
9. Mukherjee S, Date A, Patravale V, Korting HC, Roeder A, Weindl G. Retinoids in the treatment of skin aging: an overview of clinical efficacy and safety. Clin Interv Aging. 2006;1(4):327-348. doi:10.2147/ciia.2006.1.4.327
10. Diffey BL. When should sunscreen be reapplied? J Am Acad Dermatol. 2001 Dec;45(6):882-5. doi: 10.1067/mjd.2001.117385. PMID: 11712033.
11.  https://www.aad.org/public/everyday-care/sun-protection/sunscreen-patients/sunscreen-faqs