let's hear it for the australian dingo foundation
Put your hands up if you love these furry canines!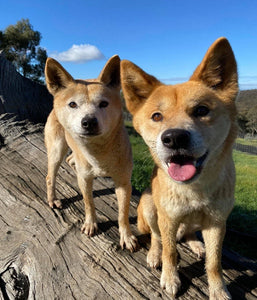 Did you know that dingoes have lived in harmony in this country of ours, alongside other Australian flora and fauna, for thousands and thousands of years? No? We didn't either. 
Did you also know that within the past 200 years, dingo numbers have been decreasing dramatically due to climate change issues, pollution and habitat loss? Surely you must know what this means? 
The dingo, one of Australia's most beloved native animals, needs our help. 
Luckily for us, we're not the only ones who agree.
The Australian Dingo Foundation was established in 2006 as a way to protect and conserve our wild dingoes (no one wants to see them go down the route of the Tassie tiger). 
Contrary to what many believe, dingoes are never actively aggressive towards humans. They prefer to run away from confrontation (honestly, same), they don't bark and they can appear 'tame' if they've been exposed to socialisation and human handling from a young age. 
Basically, they're a far cry from being "feral" or seen as "wild dogs" who will stop at nothing to kill cattle when given the opportunity. It's these descriptions that are giving dingoes a bad rep, when in reality, it's us humans who have persecuted them for so long. 
Not only is the dingo an important cultural part of our heritage, but they also are as peaceful as wild animals can be and they deserve the chance to live freely like so many of our other native creatures. This foundation aims to ensure the protection of dingoes in the wild and urges others to recognise them as a true native species. 
 But they're not doing it alone. 
 Photo credit to Gianlucca Caretta (@gianlucaretta.photography). 
The Dingo Discovery Sanctuary and Research Centre was established in 1990 for six main reasons; to preserve and conserve the gene pool of the original dingo through breeding, to educate others, to advocate for and reverse misconceptions surrounding the dingo, to facilitate non-invaded scientific research into the biology and cognitive abilities of the dingo, to actively participate in the future rehabilitation of dingoes back into the wild, and to solve the mystery of the true origins of Australia's only wild canine. 
The Sanctuary is a unique conservation establishment set on 40 acres in the picturesque foothills of the Macedon Ranges. It is situated only 35 minutes from the CBD to Melbourne's north west, in the City of Melton, abutting the Pyrete State Forest. 
The sanctuary grounds are home to an abundance of native wildlife as well as its population of over 40 DNA tested, pure Australian dingoes. 
The sanctuary was given to the Australian Dingo Foundation upon it's inception in 2006 and the two work closely with each other to offer educational experiences to the general public so that you can find out more about this unique species, and in turn, give them the recognition they so deserve. 
But there are other ways to get involved with this foundation and to help out one of our most beloved furry friends like......sponsoring one! 
Sponsors help the foundation to provide care for each individual animal including food, enrichment, medications, enclosure maintenance, and basic needs. They estimate that it requires at least three sponsors per animal to provide them with the basic necessities for one year, and when we heard that we knew we just had to! 
So everyone welcome Tangle, the adorable and cheeky Dingo, to the Buttnaked crew! Becoming the second furry child we've sponsored after Jimmie Jams (our mischievous little Koala), Tangle stole our head honcho Patrizia's heart because he's an Alpine Dingo - the same breed as her own Dingo, Hunter.

Born at the Dingo Discovery Sanctuary and Research Centre, Tangle is extremely food orientated (who isn't), and loves to rummage around for treats in places he's not supposed to. Down to be mischievous (he will splash mud on you if you forget to feed him), Tangle is bouncy and playful and makes for a perfect addition to our growing furry tribe. 

Helping out earth's furry creatures has been a priority for Buttnaked from the very beginning and once we found out that Dingoes' ecotype is threatened due to habitat loss and persecution, primarily from the agricultural industry, we knew we had to help out in any way that we could, and tbh, it's easy when he looks like this! 
Photo credit to Shari Trimble (@sharitrimble). 
But if sponsoring a dingo really ain't your thing, then there's another way you can help spread some much needed love. 
There is no way that the sanctuary, or indeed any/all of the dingo breeding sanctuaries in Australia today combined, can save this species. They've estimated that there are a maximum of 75 breeding pairs of recognised pure dingoes in captivity. Only 75?!?
Whilst it's their hope that you will always be able to see them at the Sanctuary, it's also their our underlying mission that dingoes be reintroduced back into the wild but there are steps that need to be taken before that can happen safely. 
Currently the dingo isn't officially recognised as 'wildlife' and isn't protected both at state or national level so you know what that means? It's time to start contacting your local politicians! 
While the rest of the world is surging to save its crucially important predators from extinction, extermination remains "the only choice" on the menu for Australia's diminutive top predator. 1080 poison – banned as eco-toxic elsewhere, is air dropped in our national parks – steel jawed traps are still the order of the day in Queensland, and shooting and deliberate disease spread are practised widely. 
To put a stop to this ONLY the politicians have the power. The dingo MUST be urgently removed from vermin and pest animal lists (honestly, why are they on the lists in the first place?) Please write to your local member and beg or demand that this happen now. Who knows, they might just listen if there are enough of us.