your naked gift guide
start checking presents off your christmas list...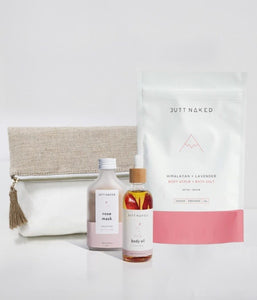 Well it's that time of the year where Micheal Buble starts to warm up his velvety vocal chords and we all prepare ourselves to listen to Mariah Carey's 'All I Want For Christmas Is You' at least 1,367 times. 
Yes that's right folks, Christmas is right around the corner and we're not gonna lie, we have no idea how that happened. It's probably because we've been in isolation for what feels like 6 months. Oh no wait, Victorians actually have been in iso for 6 months (rip). 
Anyway, we digress. We thought since the big man is gettin' ready to slide down your chimney and eat all your cookies (with a tall glass of milk on the side) that it's about time we put together a gift guide the naked way. 
Of course it goes without saying that the products in this gift guide can also be presented to loved ones on other occasions like to your bestie when she receives that promotion she's been working so hard for or to your mum who's been worrying more about her fully grown adult children than herself during this time. Or maybe your sister has her bday on the 27th of December (unlucky). 
Regardless of the occasion (honestly there may not even be one), these products are bound to please 'absolutely everybody' (if you didn't read that in the way Vanessa Amorosi sings it then you didn't do it right and we'd appreciate it if you went back and read it again). 
Introducing the NEWEST Buttnaked family member, our multi-purpose repair balm! 
The ultimate all 'rounder (no honestly, this guy can do it all), this repair balm is hella hydrating for all the nooks & crannies, bits & pieces that are dry, cracked and crusty and in desperate need of some moisture. Perfect for use on the elbows, kneecaps, lips, under the nose (anyone else feel like hay fever's hit them hard this year?!), and anywhere else that looks like it could use a little freshening up, this balm is super for calming down and soothing your skin. Which is like, totally awesome because Summer's around the corner and no one wants to look like they've just spent the past 6 months inside. Even though we have. 
Packed with soooo many good nutrients like argan oil (a.k.a. liquid gold for your skin), avocado oil (you can never have too many fatty acids and antioxidants) and jojoba oil (the more vitamins the better), this balm will be your skin's lifesaver. 
Who's not in need of a little me time? If your mum says she's not then she's wrong, she definitely is, and luckily for her we've put together the perfect self-care package. 
The mumma bear of skincare kits, the Empress is full of all the products you need in order to relax, recharge and rejuvenate both your mind and your skin. 
Honestly, it's a whole bag of nasty-free love, starting with the bag itself. The Empress' super cute makeup bag is eco-friendly, with the outer of the bag being plant-based, made from Bamboo + Jute fibres with the inside lining made from RPET (that's recycled plastic). Go Planet!
Inside you'll find our Himalayan + Lavender body scrub that's just dying to be put in your bath or rubbed all over your body, our rose body oil that is your body's go-to bestie when it comes to hydrating your thirsty skin and our rose pink clay face mask that will have your skin winding back its clock as if you're in your own version of the movie 'Benjamin Button'. In other words, it'll have your skin lookin' refreshed and irresistibly ~flawless~. 
Next up is another one of our favourite kits, the Rejuvenation Duo (we'd have done a drum roll but you've literally already seen the title). 
You get 3 guesses as to what this fan-f*cking-tastic kit's speciality is! Jokes, we know you don't need three. Yep, that's right! This kit will help to restore moisture and hydration to both your skin and hair. 
If your hair and skin are in need of a little recharge and reset then our cactus + prickly pear oil is the perfect buddy for the job. No seriously, it doesn't even need to hand in its resume. 
Lovingly referred to as our mister brightside, this oil will give you glossy hair and brighter lookin' skin, helping to reduce hair breakage and calm skin irritation. 
To complete the perfect skin combo, our cactus clay face mask is loaded with Vitamins A, C & K to help restore a youthful glow and leave your skin feeling super soft and super hydrated. 
Do you want to say goodbye to breakouts? The only acceptable answer is yes. 
One of the best ways to do that is by using our Hemp Blemish Oil Serum! Perfect for soothing, calming and restoring moisture to dry and cracked skin, this serum saviour will fight off your unwanted and uninvited pimples like it's nothing. 
Blessed with kickass balancing skills that even out oily or dry skin while helping to get rid of breakouts and dark spots, this serum is packed with a supercharged lineup of essential fatty acids, antioxidants and vitamins that your skin needs in order for it to light up like dynamite. 
Oh and did we mention it also has super dope anti-inflammatory properties that will take away redness, irritation and swelling while also helping to reduce the appearance of fine lines and wrinkles. Honestly, is there something that this little bottle of goodness can't do? No, there really isn't. 
With Summer well and truly upon us by the time Christmas gets here, why not treat your loved one to the ultimate scent-sation pack? 
This beachy, dewy sand queen will have your skin cleansed and moisturised givin' you good vibes and leavin' you hella confident (who doesn't want that)? 
With scrubs to both help exfoliate your body, target pesky skin conditions and aid in recovery, you'll be feelin' yourself all summer long, and like probs into winter as well. To finish it off, the hemp clay face mask will banish redness and say bye-bye to irritation making sure summer acne ain't one of your 99 problems. 
Toot, toot! We can hear the lip scrub train rollin' into the station! 
Blended with sugar (for something sweet), chai (for something spicy), coconut and almond oils (for something tropical), this this lip lifesaver is a hella great to scrub away flaky, peeling skin but we're like, totally not biased or anything. 
Down to keep your lips happy, bouncy and smoochalicious, this lip scrub helps to exfoliate, nourish and heal dry & chapped lips that really look like they could use a little tlc. 
Perfect for everyday use, your lips will be ready to pout in no time, and that's a Buttnaked promise. 
Need more inspo? Check out or skin kits and gifts!