women who inspire us on the daily
Who run the world? Girls!
Celebrating International Women's Day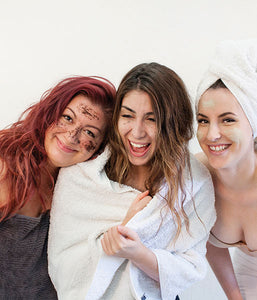 Ladies & gentleman, we'd like to draw your attention to a very special day coming up soon and, no, we're not talking about your grandma's bday although that is quite exciting. Sunday 8th March is INTERNATIONAL WOMEN'S DAY (sorry for shouting at you but this is kinda important). 

Yes, on this day we get to celebrate all the female bus drivers, lollipop ladies, doctors, pilots, CEOs, insta influencers, authors, stay-at-home mums, and all the other badass women who get up out of bed and smash every damn day. While we should be acknowledging the successful women in our life all the time, it's nice to have a day where you can shout it from the rooftops (or put it in a blog just like this one). 
To show our appreciation of for female in all her form, we decided to shed some light on the babes that inspire us; all the business leaders, entrepreneurs, and start-up gurus from both within the Buttnaked family and outside it. So pop the champagne, pour yourself a glass and listen to some Beyonce - we're dedicating this blog to you. In other words, cheers girls, here's to us! In other other words, sometimes girls just wanna have fund$. 


#girlbosses
Dianne from Save-A-Dog Scheme 
Dianne looks after the animals that are left at the Save-A-Dog Scheme shelter, working tirelessly to give them everything they need so that they can be successfully adopted. This sometimes includes organising fundraisers and charity events to help spread awareness and raise money. 
Hear from the woman herself: 
My wonderful volunteer role Save-A-Dog Scheme incorporates a lot of things, including "community outreach" programs which involve working with many amazing supporters (individuals, businesses and even schools) to both raise funds and build the awareness of SADS.

One of my major inspirations however is the animals in our care.  For the most part, the dogs and cats that come to us have been abandoned and end up in country pounds, feeling sad and neglected. The tenacity of these wonderful creatures is amazing. Their "adopt me eyes" break your heart (trust me) as well as make you smile. Some stay with us for a while as finding the right home for an animal, that in some cases comes from a difficult background and/or has had little training, can be tough but watching these animals go out the door of the shelter to a new loving home is amazing.  
Chelsey Johns from Like A Vegan 
Chelsea aims to help others understand how a plant-based diet can positively affect the environment whilst also offering delicious vegan recipes to prove that good, healthy, and tasty food doesn't have to include meat!
Chelsea, over to you:
From the tender young age of thirteen I decided to be a vegetarian (yes that's right, no special treat chicken nuggies for me), and when I was nineteen I decided to try out a plant-based diet and found out I loved it. Seriously, guys, it's the best. 

It wasn't until I became a vegan though that I found my love for cooking. I absolutely crave the challenge of creating something that nobody would suspect is cruelty-free and I love discovering new vegan ingredients to cook with. Don't get me wrong, going from a vego to a vegan was hard at first. There was a lot of label reading, question-asking and online researching but my passion for doing it was pretty clear from the get-go, I want to pet, love and shower animals in affection rather than eat them. 
Through my blog, Like A Vegan, I'm aiming to educate others on the importance of caring for our furry friends and how eating a plant-based diet can, in turn, help the environment we live in through the art of cooking! 
Eden Carell from Little Foot 
Eden dedicates her time to helping those around her, whether that's through Art Therapy classes or group sessions centred around mental health. She's passionate about people and their ability to heal both themselves as well as others through the act of doing good. 
Next up, Eden:
Apart from being a long time friend of team 'Buttnaked', I run a not-for-profit Creative Events and Art Therapy Company, Little Foot and Company, which specialises in running free classes focused on community engagement, mental well-being and creative expressions. I love working with young people to help build confidence, empowerment and community connection.
I also have a passion for Art Therapy and have worked in Forensic Mental Health in a prison and a homelessness and substance addiction at an emergency relief centre. 
This might sound a bit cliche but yolo, I'm inspired by the goodness of people. Now I know every Tom, Dick or Harry is quick to tell us that showing kindness is a weakness and that believing in our collective ability to do the right thing is a sure-fire way to make sure we're being fooled or manipulated but I strongly disagree. 
It can be easy to get overwhelmed by the negativity we are shown each day but there are so many people doing their bit in the world to care for their community, animals and the planet. Working in mental health and community engagement I get to see so many people dedicating their lives to helping others, and these are the people who despite everything, are still vulnerable, courageous and resilient.  
Oh and if I'm not out trying to help people get back on their feet and ridding the world of all its evil, you can usually find me cooking up a vegan storm, scouring the internet for my next tattoo design, hangin' out with my best buds and lathering more affection and love on my cats than they know what to do with. 


#buttnakedbabes 
Mel - 'our little bit of this, little bit of that' gal 
Apart from being one of Patrizia's besties since childhood, I'm the behind the scenes goddess, the master communicator and super serious cashola geek.
My role within Buttnaked covers a little bit of everything. I liaise with customers and clients, put in my two cents worth when it comes to new products and marketing campaigns and do a lot of the admin that it takes to operate a small business. I also love being able to use the business degree I'm still trying to pay off. 
Outside of Buttnaked, I run a dance academy in a secondary school and teach Dance and Commerce (both major passions of mine) and if I'm not teaching, working at BN headquarters or running around after my two boys, you'll probably find me asleep standing up somewhere. Maybe with a coffee in my hand and covered in some unidentified liquid. 
Creating a world that's both happy and healthy is very important to me. It's a big task but every little bit helps. 
Patrizia - our super sweet & super sassy head honcho! 
I'm gonna start off by saying I've always been passionate about the earth and its fur babies (I'll also happily admit that I love my dog more than most people) so it was only natural to create a brand that was all about love from footprint to paw print. 
Self-care should be easy-peasy, and always cruelty-free, and make you feel like 24k magic, head to toe. I grew tired of searching (Sherlock Holmes-style) for vegan products that were reliable and trustworthy so I decided to make my own!
This company is all about stress-free self-care that keeps bodies glowin', smooth, hydrated and feelin' peachy-keen from head to glorious butt. 
When I'm not hard at work smashin' through skincare stereotypes, I can be found going for numerous walks with my dog (his name's Hunter by the way and he's almost definitely better than you), or cooking up a vegan storm. 
Kate -  (a.k.a the person writing this) who is our social media & content guru!
I look after all the content you love reading so much, both on the website and on social media! Gifted with a way with words (am I overdoing it?), I'm responsible for creating blogs, coming up with insta & fb copy and for writing products descriptions that instantly make you want to update your cart.
When I'm not writing, you might find me putting another flight on lay-by (even though I haven't finished paying off my last overseas trip) or showering the little furry loves of my life with more affection than they can handle.