a guide on how & when to use face and body oils
Natural oils embody an abundance of benefits for your skin. It's important to know when and how to you skin oils so here's a guide to help you maximise the benefits on your skin.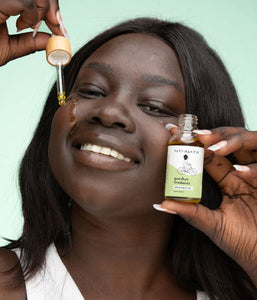 How often should you use face and body oils?
Our face and body oils are mostly non-comedogenic meaning they are unlikely to clog pores. It's really up to you how often you use your face oil in your skin care routine. Depending on your skin type some oils can be used every day as a cleanser, moisturise or sporadically as a spot treatment.
How to Use a Face Oil
As a general rule oils should be applied after serums or moisturisers and just before SPF in the morning. Think of it as applying products from thinnest to thickest.

Dab or pat a few drops on the skin as a spot treatment or use as an all-over facial treatment as the last step of your skin care routine, after cleansing and moisturising as the oils locks in the benefits from the moisturisers and serums. A face and body oil can also be used instead of a moisturiser if suitable for your skin type. 


1. Combine Oils With other products like Serums or Moisturisers
Facial oils can be combined with other skincare products to get enhanced effects. The best combinations: serums (to treat) or moisturisers (to lock in hydration).


2. Apply face oil based on your skin's needs
Facial oils can be used in the morning before your sunscreen and makeup, and at night as the last step of your nightly skincare routine (after serums and moisturisers).

If you have oily or combination skin, apply only at night before bed so your skin can soak up the oil overnight and provide protection throughout the day - especially for thicker or treatment oils.
Dull skin? Use facial oil as a primer before applying makeup. Allow the oil to fully absorb before applying your makeup for natural, hydrated glowing skin.


3. Dab or Pat Oils Into Your Skin
Dab or pat oils into the skin, rather than rubbing into the skin. This will help push oils into your pores, so the oils are easily absorbed and your skin can make use of the face oil benefits much quicker.


4. A Couple Drops Is All You Need
Face oils contain high concentrations of nutrients so a little bit goes a long way. One to three drops of of oil is enough to cover your whole face and deliver the benefits the skin needs.
Depending on your skin type a natural facial oil can be used in a few other ways to treat your skin:
As a spot treatment -
Our Hemp Face oil contains anti-bacterial properties from Tea Tree and rosemary oil which means you can use a few drops as a spot treatment on breakouts and pimples. Simply use a few drops to gently pat the oil onto the problem area.

Oil cleansing Method
A great spa-like facial treatment to really target clogged pores and get the maximum benefits from your face oil.You will need a face towel or washcloth, a face oil and hot water. To oil cleanse drop a generous amount of oil into the palm of your hands but don't overdo it.

 Rub hands together to warm oil, then slowly but firmly massage onto dry skin focusing on any problem areas. This works the oil into the pores to help impurities be steamed away. Soak a face cloth in steamy hot water, (not boiling). Hold the face cloth over your face and allow it to sit until it cools down.

 Wipe the oil gently and repeat step 4 2-3 more times. In the morning, a quick wipe with a warm face cloth or rinse in the shower is enough. Over-cleansing can create excess oil production.
How to Use our Eye Illuminate Under-eye Oil
Eye Illuminate works to help fade dark spots with ease, de-puff your under-eyes and hydrate dry, dull skin in need of some rejuvenation. To use simply dab or pat a few drops under and around the eyes in the AM or PM after creams and serums. Tip: For best results and faster absorption, pair with our toner and use on damp skin so no additional moisturising is required
Finding the Right Face Oil for Your Skin Type
DRY SKIN During summer, when your oil glands are more active than usual, you may want to only apply your facial oil at night after your moisturisers. Some oils may react to sun exposure, especially when mixed with sweat, leading to irritation, itchiness, and redness. Some oils to avoid in the summer are essentials oils cold-pressed Bitter Orange, Lemon and Lime.
In winter, you may apply your oils twice a day after the moisturiser and sunblock in the morning. You can use thick oils with high comedogenic ratings like coconut. 


OILY Stick to lightweight non-comedogenic oils, like prickly pear, hemp seed oil and grape seed oil. Apply your serum in the morning and at night and apply your medications, like for acne, at night. 


COMBINATION Treat your face how you would treat oily skin, but be cautious in choosing skin care products that don't further dry or irritate the dry outer layer of the skin. In your skincare routine apply a high comedogenic oil to the dry areas of the face like the sides of the cheeks, and a low comedogenic serum on the oily areas of the face like the nose and forehead.
Pair it with...

Powdered Clay Face Masks view

Face Serums view

Our Face and Body Oils

Adios Irritation Body & Face Oil View




Mister Brightside Face & Hair Oil View


Goodbye Breakouts Hemp Face Oil View




Hydrate Thy Body Rose Oil View