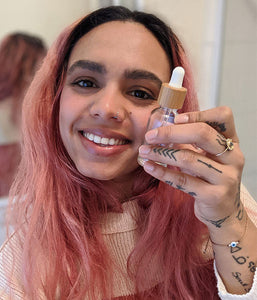 sheena's routine for glowing skin
Name: Sheena
Age: 32
Location: Melbourne
Daily Grind: Retail Legend
Skin Concerns: Oily T Zone
I'm a Mama of two, studying Phlebotomy and working in retail. In my spare time (when it comes about ;)) I love sharing great food and wine with beautiful and open-minded souls whilst listening to music and deepening connections.
review.
prickly pear oil serum 

Well, the cactus oil has absolutely been a treat on my very oily skin. I usually can't wear makeup after using a face oil as they leave a layer on top of my already oily skin, especially around my nose and chin. But this beauty gives me a dewy glow and I can still apply makeup and no excess oil! It's miraculous. It definitely hydrates and illuminates the skin. 

01.
cleanse

Pretty simple self-care routine going on for me, as I'm generally time-poor and just need something that will be easy to use but also doesn't require half an hour of faffing around! So I start by using a cleanser to cleanse my skin.

02.
serum time

After cleansing, I apply the prickly pear cactus face oil onto my hands (2-3 drops) dab it in all over my face, then use the excess on the ends of my hair- which is super hydrating on my dry and dull ends. Then I go about my day. On the days I'm wearing makeup I apply this over the top and it sits beautifully. I then at night remove my makeup and use the oil on my face and hair before bed. Simple!