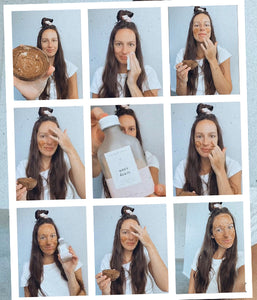 the best skincare routine for oily skin
Name: Hayley
Age: 28
Location: Melbourne
Daily Grind: Primary School Teacher & Creator of HK Collective
I am a 28-year-old Primary School Teacher from Melbourne and I have just created a new business 'HK Collective' which sells luxe signature beauty/wellness boxes. My favourite words are self-love and self-care! I really enjoy listening to my body and taking care of it after a busy day of working with small children in the classroom. I really need a lot of downtime and spend a lot of time grounding and relaxing. I like to take care of my skin using amazing Australian and organic skin products and I enjoy drinking tea, reading quotes and poems, using oils and cleansing my body. I love all things beauty and try my best to share all of the amazing products I pack into my HK Collective boxes with others. I want everyone to open up and indulge in self-care and self-love like I do each day by using these products.
the lowdown

I use the Butt Naked Pink clay mask in my skincare routine and Himalayan and Lavender scrub on my body. I use both products three times a week, or when I need a skin pick-me-up. I use a range of products alongside Butt Naked, which work well together.

face care

My go-to face mask is Butt Naked Rose pink clay mask. It makes my skin feel incredible. When it is on my face, it feels fresh and calms my skin.   I usually use the clay mask in the morning so that my skin is plump, glowing and fresh for the day ahead.  
 1. I use an organic bamboo wipe on my skin pre-face mask to get rid of any dirt or makeup.  2. Then I mix up the clay mask in a little bowl and paste it into my face. My cheeks LOVE this!  3. I like to leave it on for 15 minutes then I begin to remove it with a hot face washer.  Aftercare: I mist my face with a toning mist and then moisturise. My skin feels INCREDIBLE each time! 
 It is effortless to apply and take off. After using the mask, my skin is so plump and hydrated; it feels like I have had a full facial! The smell of the mask is subtle and natural, which makes me feel grounded. 

bodycare

The Himalayan and Lavender body scrub is so refreshing and invigorating but also has a sense of calm with the lavender. It helps my skin as I spend a lot of time in the sun, and I often get dry patches on my shoulders. The salt really cleanses my skin, and the lavender calms it. I usually use the Body scrub at night to cleanse my skin and get rid of any dry bits. I like using this at night because lavender is a part of my self-care routine in the evenings to ensure I get a good nights rest. You can even put the scrub into the bath and double it as a soak, plus it leaves a relaxing aroma in the bathroom.

tips

I like to mix up the pink clay mask in a little wooden bowl and spoon, by using this, I feel like I am more grounded and earthly.