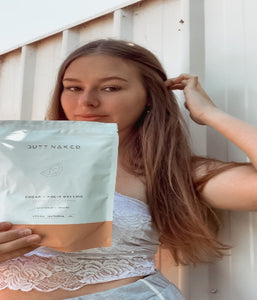 maddi rain's recommendation for hydrated skin
Name: Maddi Rain
Age: 18
Location: Melbourne
Daily Grind: Real Estate and Property
Skin Concerns: Dry skin, red blemishes, cracked lips
I'm a small instagram influencer with a passion for photography and modeling! I'm an extremely bubbly person and enjoy the company of others & my favourite place is the ocean, the sand, sun and waves!
what I use...

- Chai Lip Scrub
- Nudist Repair Balm and
- Sugar + Fruit Bellini Body Scrub

These products have helped me achieve hydrated, soft skin through being able to get rid of dead skin cells and making sure everything is properly moisturised!  

01. exfoliate

I love to use the scrub twice a week to really make sure I'm getting rid of dead skin cells. This has helped me hydrate my skin and in turn, has helped me keep it super smooth and soft!

02.
lip treatment

The lip scrub has allowed me to get rid of the flakey skin that has been building up, leaving them soft and extremely kissable. I usually use this scrub whenever my lips are feeling a bit dull and gross. Mwah!

03.
lip hydration

The nourishing nudist balm has allowed me to regain hella good hydration and super softness in my lips for a more confident smile! Who doesn't want that? I use this balm whenever my lips are feeling a bit cracked and could do with a little extra help in the moisturisation department!